Whatever the model, innovation needs a common language. Enter FourSight.
Innovation is getting crowded with processes: There's design thinking and LEAN Six Sigma; Agile and Simplex; Synectics and TRIZ— not to mention all the custom, in-house models that organizations have created themselves to help people innovate.
It gets a little confusing. "We need different processes to support the range of incremental to radical innovation. However, having all of these different processes has made it challenging for people to understand how creativity fits in
," says Clay Bunyard, Research Technical Leader at Kimberly Clark. "
We adopted FourSight to give us a universal language for talking about creativity across all of these processes
."
Ultimately, all the complex, expert models link to four measurably different types of thinking: Clarify, Ideate, Develop and Implement. "Tying these processes to the simple FourSight cognitive framework gives everyone a universal language for creativity and innovation,
" says Bunyard.
More innovation champions are discovering FourSight's ability to "play well with other" process models. Some people use the 4 stages as a stand-alone process. Others use it as a common language to help bridge communication gaps that naturally occur between expert models.
Either way, FourSight unlocks the fundamental insight that individuals approach process with distinct and different patterns. Awareness of thinking preferences helps people collaborate to move innovation efforts forward—whatever the process model. Below are comments from our friends Mike Ackerbauer at IBM and Peter Zapf at the Design Institute, talking about how they integrate FourSight with the models they use.
AGILE
"At IBM, Agile is our overall process and FourSight is our way to help people understand how they interact with that process."
Mike Ackerbauer, "Whole Team Evangelist - Agile Academy" IBM
DESIGN THINKING
"If I talk to a client about design synthesis, I get a blank stare. FourSight is great at making the process more human and more approachable."
Peter Zapf, Professor at the Institute of Design, Founder at Fogpilot, Chicago
A special invitation to certified FourSight users...
Every year, we invite leading FourSight users to meet for an insider conversation around new research, new practices, new products, new stories and new theory around FourSight.
This year we are extending the invitation to all our certified users. Join the FourSight community in sunny Orlando, Florida at the annual
FourSight Users Forum Feb. 9-10
. Attend workshops, hear talks and share your best practices with the FourSight community. This year, the FourSight team will be unveiling new research, new software and new practitioner opportunities.
FourSight User Forum Date:
Feb. 9-10, 2017
Time:
Thur 8:30am - 5pm; Fri 8:30am til noon
Place:
Collaborative Design Center, Orlando, Florida
Price:
$575 USD
Contact
Info@foursightonline.com
for more info.
COMING UP NEXT MONTH...

What do you give an Ideator for Christmas? What if you have a Developer on your list?... Thinking about gift-giving from a whole new perspective: cognitive styles.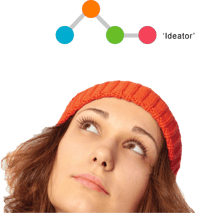 Copyright © 2016 FourSight LLC, All rights reserved.