Ideas fuel innovation. No ideas? No innovation! But what are ideas exactly? In this interview we ask Gerard Puccio PhD, author of "Creative Leadership" and the "FourSight Thinking Profile" and chair of the oldest Master of Science program in Creative Studies, to illuminate what ideas are and where they come from.

So, what's an idea?
GP: An idea is our imagination's way of responding to a gap. A gap might be created by a question that doesn't have an answer or a problem that doesn't have a solution. We bridge the gap by forming a new association or connection. That's an idea. People often confuse ideas with solutions. In my opinion, a solution is an idea that has already undergone the process of being evaluated, refined, and developed so you're very close to bringing it to the world. An idea, by contrast, is closer to the wellspring of imagination. In the overall process, it is closer to the initial insight – the 'aha' moment.
Where do ideas come from?
GP:
We find ideas by looking for them. While it's true that people occasionally stumble on a new idea, most ideas come in response to a need. It could be the need for a new product, business or opportunity. When our mind identifies that gap, our imagination starts working to create an association that will bridge it. The more we fuel our minds with rich stimuli, such as new knowledge, ideas, concepts, theories, images and experience, the more effective we become at making associations that bridge gaps.
How do we become better at having ideas?
GP:
We can train our imagination. Exercising our imagination is just like...
Read the full interview.
Gerard Puccio and the FourSight research team will present at the SOU Creativity Conference next month!
Gerard Puccio PhD, along with FourSight team members Blair Miller PhD, and Selcuk Acar PhD, will present at the
SOU Creativity Conference
(August 3-6) on the latest FourSight research: gender differences, leadership styles and mental health implications of thinking preferences. If you'll be at the conference, come see us! Or, look for a FourSight research update in our upcoming newsletters.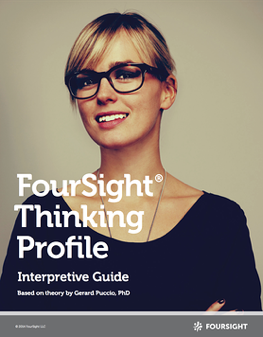 Mindset Certification
Learn to run a 2.5-hour Mindset session. This 2-day certification will teach you best-practices for debriefing the FourSight Thinking Profile assessment with individuals, groups and teams. FourSight master trainers coach you on how to use FourSight to maximize your impact as a trainer, consultant and innovation practitioner. You will learn to share this insight with others in a high-impact training.

Upcoming Mindset certifications: July 25-26, 2018 | Chicago, Illinois Sept 18-19, 2018 | Evanston, Illinois Jan 24-25, 2019 | St. Petersburg, FL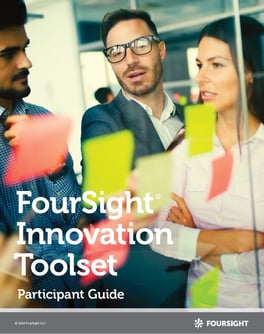 Toolset Certification*
Learn to conduct a 1-day Toolset training. This 2-day certification will teach you how to train tools to clarify, ideate, develop and implement. During the Toolset Certification, you will learn to train a course that helps participants move past their innate thinking preferences and build skills that will help them clarify, ideate, develop and implement so they can perform and collaborate effectively at each stage of the creative process.
Upcoming Toolset certifications:
July 30-31, 2018 | Evanston, Illinois September 20-21, 2018 | Evanston, Illinois January 24-25, 2019 | St. Petersburg, FL
*Prerequisite: Mindset Certification