Who are the innovators in organizations? The results of our year-long study are in.
The First Ever Innovator Profile Study
More than 400 innovators on 4 continents
Who are the people drawn to corporate innovation? And what attracts them to the challenge of bringing "new and improved" to organizations? FourSight decided to find out. In 2018, we launched a research partnership with the Innov8rs conference. We traveled to four continents, collecting the thinking profiles of 410 corporate innovators who registered for the conference, and compared them to 13,500 profiles from the general population. The results are stunning.
Read the article…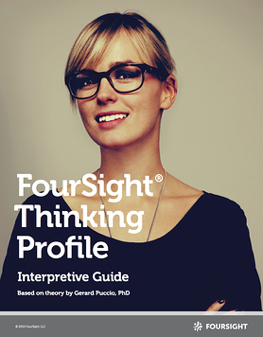 Mindset Certification
Get certified to use the FourSight Thinking Profile to foster collaboration and sharpen creative thinking skills in individuals and teams. This 2-day Mindset Certification course teaches best-practices for debriefing the FourSight Thinking Profile assessment with individuals and groups. Watch the video.
Get Mindset certified to…
Access discounts on

profiles

Promote your practice as a FourSight Certified Facilitator
Learn the latest research to help teams leverage cognitive diversity
Get ongoing, advanced training, free at FourSight U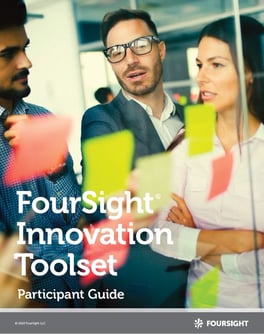 Toolset Certification
Learn to teach tools to clarify, ideate, develop and implement. This train-the-trainer course teaches you to deliver a 1-day "Innovation Toolset" program that trains your participants to be more innovative problem solvers. Toolset Certification is for facilitators already certified in Mindset.
Get Toolset certified to…
Access exclusive Innovation Toolset training materials
Get discounts on world-class training materials
Promote your practice as a Certified Toolset Facilitator
Help groups learn powerful problem solving techniques
For more quotes like this visit our
Facebook
and
LinkedIn
pages where you can follow FourSight to view daily quotes and articles on your newsfeed.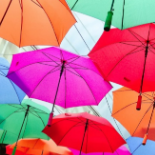 The FourSight colors were chosen deliberately, if not exactly scientifically. Here's why we chose blue for clarify, orange for ideate, green for develop and red for implement.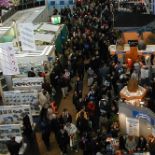 Viva Implementers!
At February's ExhibitorLive Trade Show in Las Vegas, FourSight helped trade show professionals (and one FourSight facilitator) learn how to work the crowd.