Paying attention to other people's ideas is a start...but what if we paid more attention to their questions?
What we ask (and what it means)
Thanks to Simon Sinek's brilliant Ted Talk "Start with Why," we all know the value of entering into a challenge by answering the question why?

But not everybody instinctively starts with why. Research from FourSight tells us that different preferences gravitate toward different questions.

Clarifiers start with what and who. They want to know what's happening? What's the background? And who is involved? These are data gathering questions that bring clarity to the problem space.

Ideators start with the question why. Why is this relevant? Why should we care? These questions ask for the big picture and sometimes challenge the entire premise, which is typical of an Ideator's need for a conceptual understanding and their refusal to accept somebody else's definition of the problem.

Developers tend to start with how and where. How can they turn an idea into a solution? Where does the solution have to manifest? And how can they optimize for that context? How and where questions recognize the need to develop an idea for the ecosystem in which it will be implemented. Implementers start with when. When do we have to get this done? When do you need it? They focus on outcome first. Then they back into the other questions: What is it? Who's involved? Why is it important? How do you think we should do it? Where does the idea live? Knowing that people with different preferences tend to start with different questions can help you start to see how people are trying to access creative process. Listen for the question words they use. Of course, all the questions are valuable. In the end, it's the combination of asking "who, what, when, where, why and how" that will get you a great outcome. But now that you can connect FourSight preferences to questions, start to notice how preference-driven questions may reveal more about a person that simply the question they are asking.

In 2018, FourSight is partnering with Innov8rs, hosts of the global Intrapreneurship Conference series. Together we are doing research on the cognitive profiles of corporate innovators. We've got some fascinating findings so far. By year's end, we'll have these results to share with you. We'll be at the upcoming events in Madrid, LA and Sydney.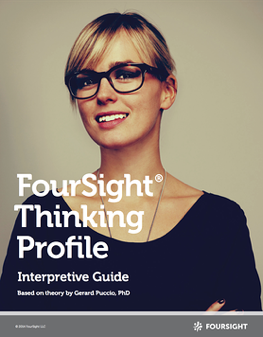 Mindset Certification
Learn to run a 2.5-hour Mindset session. This 2-day certification will teach you best-practices for debriefing the FourSight Thinking Profile assessment with individuals, groups and teams. FourSight master trainers coach you on how to use FourSight to maximize your impact as a trainer, consultant and innovation practitioner. You will learn to share this insight with others in a high-impact training. Upcoming Mindset certification dates: May 21-22, 2108 | Sydney, Australia June 18-19, 2018 | Buffalo, New York July 25-26, 2018 | Chicago, Illinois Sept 18-19, 2018 | Evanston, Illinois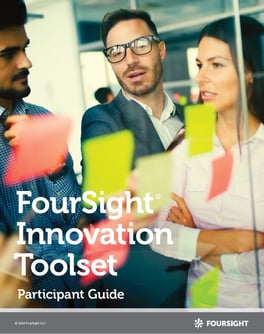 Toolset Certification*
Learn to conduct a 1-day Toolset training. This 2-day certification will teach you how to train tools to clarify, ideate, develop and implement. During the Toolset Certification, you will learn to train a course that helps participants move past their innate thinking preferences and build skills that will help them clarify, ideate, develop and implement so they can perform and collaborate effectively at each stage of the creative process. *Prerequisite: Mindset Certification. Upcoming Toolset certification dates:

September 20-21, 2018 | Evanston, Illinois