Ad agency president, Stacie Boney, knew she wanted to make a big improvement in her team's approach to annual and quarterly strategic planning sessions.
Boney heads up Hanson Dodge, a full-service ad agency based in Milwaukee, Wisconsin, that serves clients like the Utah Office of Tourism, KEEN Utility and Stanley PMI. The agency had been generating momentum, expanding business with current clients and earning new ones, and was poised for greater growth. Boney, however, knew there was room for improvement in their approach to strategic planning.
"Our meetings were not ineffective, we would get to a plan, ultimately," she said. "But they were static, we felt like we struggled to stay truly engaged and inspired, and I went looking for new outside help ."
Looking for a better way, she asked around to industry colleagues. Someone mentioned FourSight.
Boney was surprised. The Hanson Dodge agency was already using FourSight: The assessment helped their people work together more effectively. The tools and process gave them a common language for creative collaboration. Still, Boney admitted, "I was a huge FourSight fan, but I wasn't quite imagining how FourSight would help us with strategic planning."
Her primary concern was their lack of industry knowledge. How could anyone facilitate strategic planning for an ad agency without knowing the agency world?
"FourSight was perfect
for the job."
After an hour, she realized, "FourSight was perfect for the job."
What changed her mind? Facilitator Russ Schoen explained that FourSight facilitators are trained to stay out of content. It's not their job to be industry experts. It's their job to guide the group through process (i.e. making sure the group does a great job clarifying, ideating, developing and implementing the strategic plan). Schoen promised Boney that FourSight could prevent another year of "no traction."
"She loved the idea that it would be engaging," recalled Schoen, "The previous approach had felt like drudgery. We promised to let people explore possibilities before converging on goals, and have tough conversations in a safe environment."
Boney believed him. She had already been impressed by how FourSight made it easy for team members at Hanson Dodge to solve tough problems without "bruised relationships."
Suddenly, Boney saw the brilliance of using FourSight to tackle her strategic planning challenge.
The facilitators began by interviewing each member of the leadership team separately. "Good strategic planning requires navigating through the creative process," said Diane Testa, president of Koi Consulting and Schoen's co-facilitator. "We did a lot of clarifying before gathering the whole group. Our job was to align the group, help them deal with unknowns, and see a different, exciting future together."
Before the big meeting, Boney asked the facilitators to keep an eye on Mike Stefaniak, Hanson Dodge's Chief Strategy Officer, whose fast mind and facilitation expertise made him the toughest critic of HD's former approach -- feeling trapped in a room for two days without enough progress. He would be the litmus test of whether this new FourSight process was working.
So stakes were high as the annual strategic planning meeting began. For two days, the facilitators led the group through strategic planning with language and a framework that were already familiar to the group: clarify, ideate, develop and implement.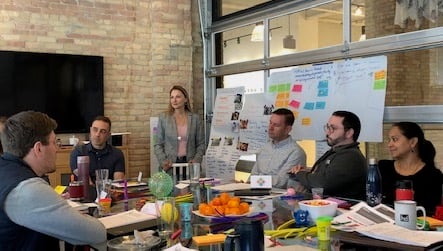 "I can't believe how much we got done," Boney reflected proudly. "We had all the right conversations and explored lots of possibilities. You could see the light bulbs popping above people's heads." Plus, she met her own objective of running an engaging strategic planning meeting where people collectively identified clear short and long-term goals.
"You could see the
light bulbs popping
above people's heads."
The biggest convert was Stefaniak. "I used to feel impatient and frustrated in our meetings," he admitted, but he found the new process enjoyable. "Of course, we had serious business to get done. We still reviewed all the financials and reports, but the structure and the framework for getting it done engaged people in a different way. There's a lightness to it. The FourSight approach suits our business and our culture, because it combines the hard numbers with an opportunity to generate new thinking and new possibilities."
"The Hanson Dodge group did great work," said Schoen. "As facilitators, we just helped them navigate the creative process without getting lost in personal conflict or complex problem solving like many groups do."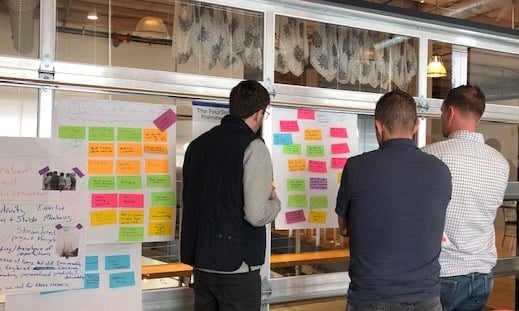 Ten months after the fact, Boney is still thrilled with her team's results. This year's strategic planning session didn't just have a positive impact on her team, she said, it also had a positive impact on her bottom line. Hanson Dodge's quarterly goal completion rate went from 50% to 70%. Revenue and profit goals, which had fallen short the past five years, have been met or exceeded.
"It really helps that objectives are clear,
measurable and understood by all."
"It really helps that objectives are clear, measurable and understood by all," said Boney. Quarterly objectives now fit seamlessly into strategic yearly objectives, she said. "Of course, it's still a lot of work, but thanks to FourSight, we're not struggling to get there."
---
Author Anna Lidstone is a writer, storyteller, communicator, creative engagement specialist and creativity and innovation facilitator who lives in Canada.
---
FourSight conducts creative thinking training with organizations all over the world. If you are ready to stop doing "business as usual" and to find new ways of thinking to navigate the challenges of the 21st century, click below for more information.